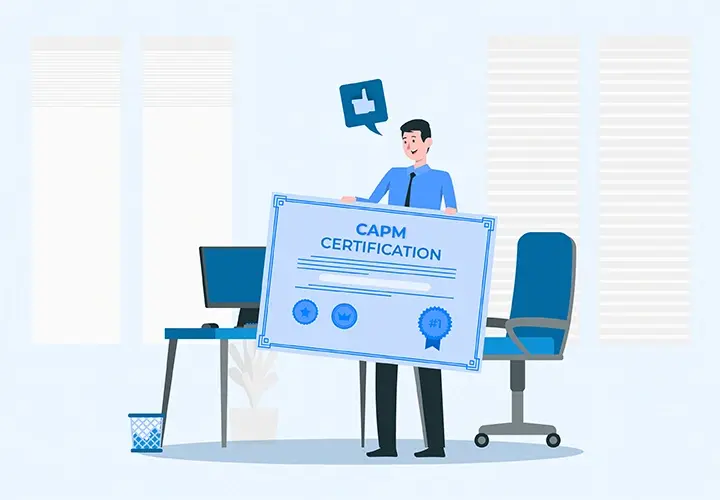 27 Sep

What is the CAPM Certification?


The CAPM certification is often considered the stepping stone to the Project Management Professional (PMP) certification. The course is best suited for project associates aspiring to start a career in project management. Let us learn more about CAPM certification.

The CAPM certificate acknowledges the candidate's ability for entry-level project management positions. The certificate is issued by the Project Management Institute (PMI), a leading worldwide organization in project management.
Eligibility Criteria

Any candidate who is willing to add a new skill to elevate their professional knowledge and management skills can opt for CAPM certification.
Prerequisites of CAPM

The following are the prerequisites for a CAPM Certificate:
The applicant must have a secondary school degree, like a senior school certificate, pre-degree certificate, or pre-university certificate
The applicant must complete 23 hours of project management education, completed before the exam time
Steps to Earn a CAPM Certification

Follow these steps to apply for the Certified Associate in Project Management certificate:
Pursue formal Project Management Education or Gain Relevant Experience

The PMI mandates the applicant to complete 23 hours of formal project management education. It also offers an online course to help candidates fulfil their educational requirements.
Apply for the Exam

After meeting the educational prerequisites, candidates are eligible to apply for the CAPM certification exam. Additionally, PMI members have the opportunity to benefit from a waiver. Our students can access our mock test and study materials, which are valuable resources for their exam preparation.
Appear for the CAPM Certification Exam

Once PMI approves your application, you can appear for the 3-hour CAPM certification exam. Though there are no standardized cut-offs, experts from various disciplines evaluate the candidate's performance to declare the result.
At BMTC, our seasoned mentors are dedicated to ensuring your optimal preparation for the CAPM Certification in Qatar. Enroll today to make a significant, enduring impact on your professional journey.