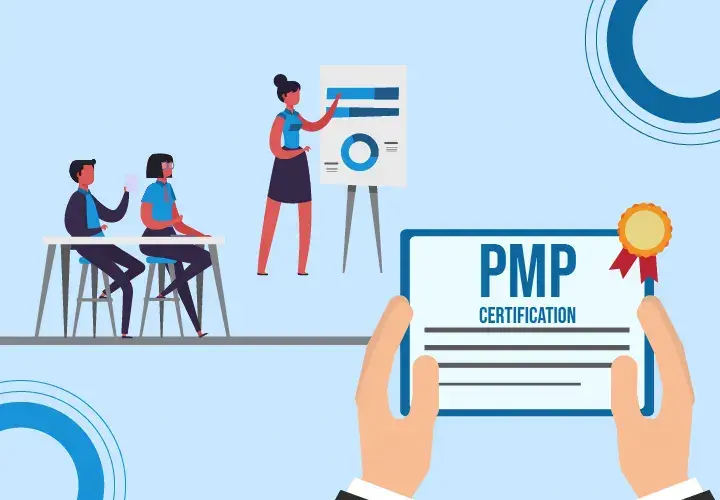 28 Jul

What is a Project Management Professional Certification (PMP)?

Are you looking to excel in the dynamic field of project management and stand out as a true expert? If so, the Project Management Professional Certification (PMP) could be your key to success. Recognized globally as a mark of excellence, the PMP certification, offered by the prestigious Project Management Institute (PMI), validates your proficiency in project management practices.

Whether you're a seasoned professional seeking career growth or an aspiring project manager taking your first steps, the PMP certification can pave the way to exciting opportunities in diverse industries. In this article, we'll delve into the significance of the PMP certification and how it can propel your career to new heights.
Understanding PMP Certification
PMP certification is a rigorous process that evaluates a candidate's knowledge, skills, and experience in project management. The certification is based on PMI's Project Management Body of Knowledge (PMBOK), a comprehensive guide that encompasses industry best practices, tools, and techniques for managing projects effectively.
Eligibility Criteria
To be eligible for the PMP certification, candidates must fulfill specific criteria:
Education:
Candidates with a four-year degree require a minimum of 36 months of project management experience, with 4,500 hours leading and directing projects. For those without a four-year degree, the required experience increases to 60 months (5 years), along with 7,500 hours of project leadership.
PMP Education:
Additionally, candidates must complete 35 hours of project management education, which can be acquired through PMI-approved training courses.
Benefits of PMP Certification
Achieving PMP certification offers numerous advantages for professionals seeking career growth and development:
Enhanced Marketability
PMP certification is globally recognized, making certified professionals highly sought after by employers across industries. It enhances your marketability and opens doors to a wide range of career opportunities.
Increased Earning Potential
Certified PMPs often command higher salaries than their non-certified counterparts. The certification demonstrates a commitment to excellence in project management, making you a valuable asset to organizations.
Expanded Networking Opportunities
As a PMP certified professional, you gain access to PMI's extensive network of project management professionals. Engaging in PMI events and forums can lead to valuable connections and potential career advancements.
Improved Project Management Skills
The PMP certification process equips candidates with in-depth knowledge of project management methodologies, enabling them to handle complex projects with efficiency and confidence.
Global Recognition
PMP certification is recognized and respected worldwide, allowing professionals to work on projects internationally and collaborate with diverse teams.
Conclusion
Are you ready to unlock new opportunities and soar to greater heights in your project management career? Look no further than the prestigious Project Management Professional Certification (PMP). At BMTC Consulting, we are committed to helping professionals like you excel in project management and achieve your career aspirations. Discover the remarkable benefits of PMP certification and embark on a transformative journey to success.