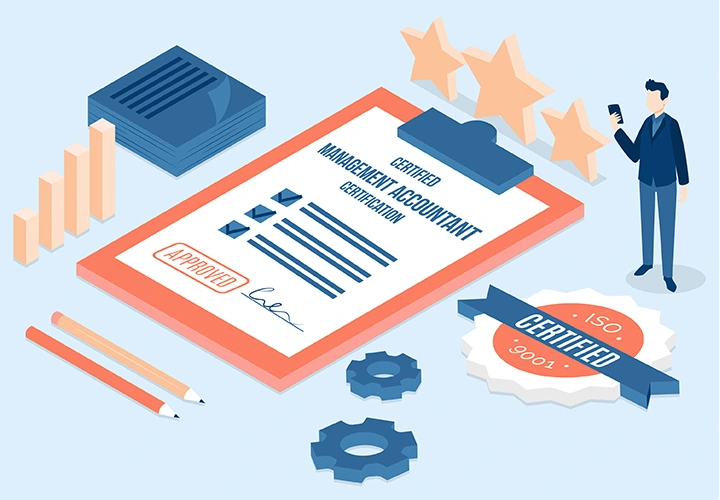 22 Sep

How to Become a Certified Management Accountant?

Many professionals wonder about the IMA Certified Management Accountant Certification and whether the certification will bring a positive change in their career. If you are also one of them, we recommend you read until last to learn about the certification benefits.
What is the role of CMA?

IMA Certified Management Accountant Certification enables a professional to work in the field of corporate financial accounting and strategic management. Once a candidate clears The Institute of Management Accountants (IMA) exam, it awards them a certificate vouching for their knowledge and credibility.

Role of a certified management accountant

Though the role and responsibilities of IMA's CMA may vary depending upon the industry, a broader scope of work includes:
Preparing and analyzing financial statements

Making financial forecasts

Creating and maintaining company budgets

Preparing and presenting financial reports

Completing internal audits

Managing a company's ledger

Supervising staff in the accounting department

Preparing and reviewing company tax returns
Why get a CMA certification?

The BMTC CMA ACCA Training in Qatar lets you polish and master every skill needed to acquire the certification. But how will the certification help you? If this query is bothering you, consider these:
Accountants with a CMA designation tend to make more money than those without it. 

Earning a CMA establishes you as an expert in financial management, giving you an upper hand in the job search.

It helps build global recognition, thereby opening you a plethora of opportunities.
Prerequisites of Certified Management Accountant

Before you apply for the IMA membership, learn about the prerequisites of CMA
Prospective CMAs should follow the requirements set by the IMA. The applicants must complete the CMA program through IMA, pass the CMA exam, and complete all CMA requirements.

Professionals who meet IMA's educational and experience prerequisites may pursue CMA certification. In such cases, the candidates must hold active IMA membership.

IMA charges CMA program fees. The candidate must pay the fees to enroll in the program and appear in the exam.
How do I get a CMA certification?

Follow these below-mentioned steps to become a successful certified management accountant:
Earn a bachelor's degree in accounting, finance or a related field

Apply for the IMA membership and pay the annual membership fee

Once your membership is approved, you can enroll in the CMA program

Pass the CMA exam

Acquire relevant work experience

Once all the eligibility criteria are fulfilled, IMA awards the designation to the suitable candidate
At BMTC, we follow an adaptive study course to impart you the best CMA Training in Qatar. Enjoy a leg up on your competition with our comprehensive training courses. Contact now.