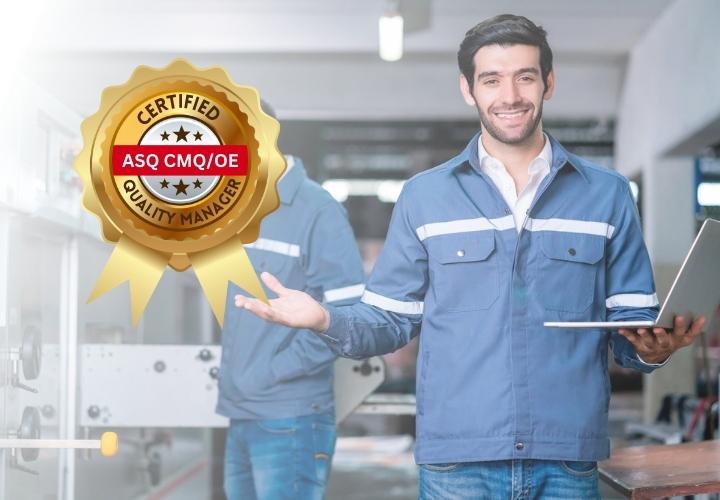 21 Nov

Is becoming a Certified Quality Manager (ASQ CMQ/OE) worth it?

The job of quality management includes careful maintenance of customer satisfaction while remaining within the best abilities of the business. As a certified manager for QMS Certification from the American society for Quality, you will be trained to head and manage improvement projects in service and industrial fields.

The ASQ exam gives individuals the stamp of Certified Manager of Quality/Organizational Excellence (CMQ/OE). Organizational Excellence is the attempt to build an internal structure of standards and processes that can effectively incentivize employees to fulfill customer requests to the best of their abilities. Hence, it is understandable that successful performance as a quality practitioner requires CMQ/OE certification.

In this blog, we will look into some of the features and benefits of the certification:
Improved Skills: To be certified as a quality assurance manager requires skills in various fields. Certification from ASQ provides the stamp of reassurance on your knowledge and abilities required to compete in the modern business world.
Increased Benefits: Along with increased skills comes increased benefits. As you climb up the corporate ladder and handle larger responsibilities, you can make around $90k annually within five years of experience. In comparison, average individuals without CMQ/OE certification make approximately $70k.
Better Service Quality: The stronghold of a company is its customer satisfaction andproduction costs. A certified manager for QMS Certification can adeptly handle a business for the highest returns by applying quality tools to provide the customers with consistent output while decreasing costs. Overall, a certified QMS can increase production vividly while keeping costs low.
First-Hand Experience Leading Projects: One of the many core competencies ofASQ accreditation is its experienced-based techniques, ensuring that CMQs can perfectly strategize and lead the team into successful improvement initiatives. Alongside, certified individuals are trained in developing and assessing measurement system to gauge the difference in performance and results accurately.
Gain Knowledge-Based Management Tools: Lastly, quality managers also have to look over the financial situations and make the optimum decision according to the risks involved. With a qms certification Qatar, you are equipped with the knowledge-based techniques to evaluate risks and motivate staff for the best output in any project. So, it is evident that quality management is inseparable from risk management, be it organizational issues like tiny hiccups or significant challenges.
The ASQ CMQ/OE Body of Knowledge encompasses the necessary knowledge essential to becoming an efficient Quality Manager. Some of the skills included are Strategic Plan Development and Deployment, Quality Management Tools, Supply Chain Management. Customer-focused organizations etc.
We assist in applying for a CMQ/OE certification as it is bound to boost your career with new ventures and opportunities. Stay ahead of the job market with newly acquired skills and techniques from the prestigious American society for Quality organisation and receive better promotions and offers at every step. Contact us to know more.